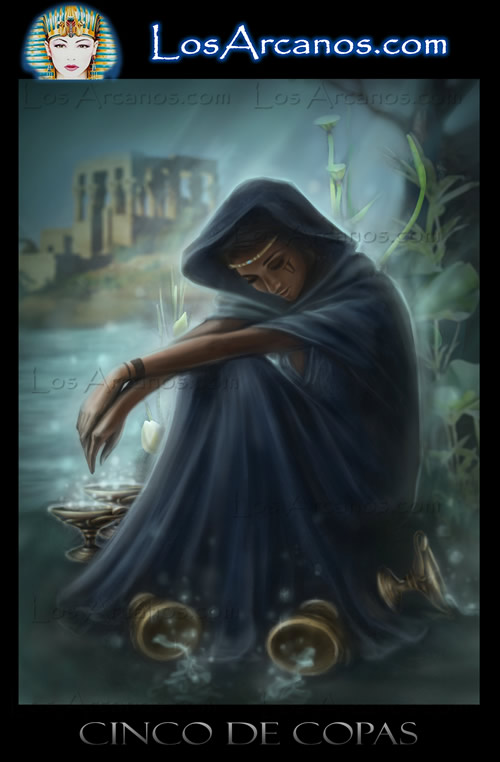 The letter features a figure of a person wearing a black cape. She hides her face in what appears to be despair. There are five cups on the ground, three of which have fallen while the other two remain standing. The person, however, seems not to notice that there are two cups standing as they are too busy crying over the ones that have fallen. There is a powerful river flowing between her and a house or castle in the distance, indicating that a torrent of emotions has separated her from her home.
This letter symbolizes disappointment, and the feelings that arise when things go differently than you expected. You feel unhappy that a certain situation has not really turned out the way you expected. Instead of moving towards a more positive perspective, this letter seems to say that you are living in the past, inducing feelings of self-pity and regret. The water that really spills from the cups shows that you may have missed an opportunity. It also shows that the problem is primarily emotional and not material or financial.
Its meaning shows that you may have certain problems letting go of things that are in the past. Furthermore, it also shows that you are not willing to learn from the mistakes you have already made. The letter often reflects a person who is so caught up in his past that he is absolutely unable to move on. This means that you have a high probability of missing out on the new joys the future can bring.
This Five often appears in a Tarot reading when a situation has not gone as expected and you feel sad, sorry and disappointed. Instead of moving on with your life, you are choosing to wallow in your self-pity. All you can focus on right now is what went wrong and how you failed. Honey, it's time to build a bridge and get over it! Sure, feel the sensations, but set a time limit for your self-pity and then get together and move on.
This letter also suggests that you are stuck in the past and cannot let it go. Old wounds and bitter memories are flooding your thoughts as you think about what happened and where everything went so wrong. You may be blaming yourself or feeling victimized by life's circumstances. These negative thoughts and emotions are holding you back from their full potential and must be released so you can move on and create positive change.
Forgiveness is key, both for you and for others. If you are disappointed in another person's actions, find within your heart to forgive that person, freeing you from disappointment. And if you're disappointed in yourself, you know you did your best under the circumstances and now you've learned from your mistakes.
Remember, too, that hindsight is so much clearer than the foresight and wisdom that you get at the present moment from past mistakes. Reflect on what led you to this point and understand what important lessons you can take from the experience. Even when things are pear shaped, there is always something positive that can be gained by reflecting on the lessons learned.
The Five of Cups is showing you that although it seems that things are not going well right now, there are new opportunities and possibilities that await you, but only when you are ready. It's time to get your mind off what went wrong, and instead focus on what can go right from this point on. Open yourself to the positive side of life as you know there are many blessings in disguise right now.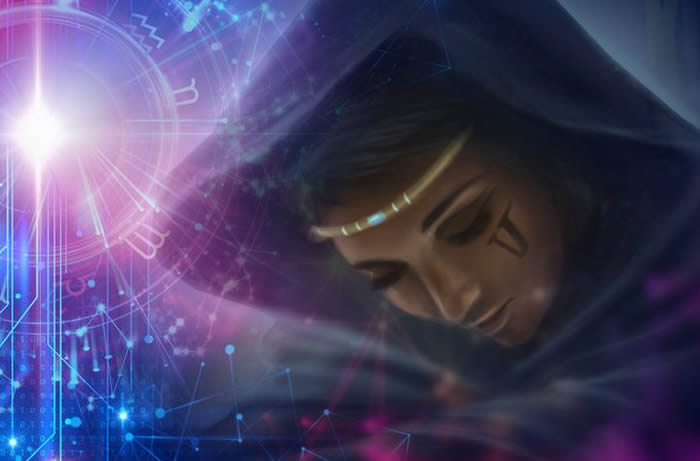 Inverted Five of Cups Meaning
When the letter is reversed, it shows a significant recovery from repentance, as well as proper acceptance of your past. You are beginning to realize the full implications of your actions and have finally come to appreciate the lessons that can be learned from that experience.
You can even begin to recognize the general value of the painful experience you had in the larger scheme of things. You are seeing that the suffering and grief you endured gave you strength and impregnated you with resilience. You are ready to collect the two remaining cups that are still full and continue your life in full force.
This flip card suggests that you have recently suffered a personal setback or disappointment. You are not quite ready to talk to others about what happened, instead you choose to keep your feelings to yourself. The people around you may not realize how much you are suffering right now. To help you through this difficult time, you should not be afraid to ask for help or speak to someone you trust.
You may find that emotional pain decreases. You may also be concerned that you are a "failure" and do not want others to know that you have taken the wrong path. Much of this is on your mind and you will find that by sharing your feelings with others, you will realize that this is just a temporary setback that can be overcome.
You may also feel guilty or ashamed for what happened, blaming yourself for the mistakes made. The flip card invitation is to forgive yourself and move on. You know you did the best you could under the circumstances. This may also be the perfect opportunity for you to practice the Hawaiian forgiveness ritual, Ho'oponopono, where you ask for forgiveness, express gratitude, and feel love.
When this card appears in a Tarot reading, you are beginning to realize the full implications of the past and have come to appreciate the lessons learned from the experience. You can even recognize the value of the painful experience in the larger scheme of things by preparing for later experiences.
The inverted Five of Cups serves as a reminder that you cannot undo the past; what happened, happened. Now is the time to release and let go of what no longer serves you emotionally, and open yourself to the new opportunities available to you. You are also discovering how to be open and take risks again, especially those of the heart. If you recently suffered setbacks, you will find that you will feel more optimistic about the future and begin to re-engage with the inspiring, creative, and sentimental side of life.